What is the Job of the CEO?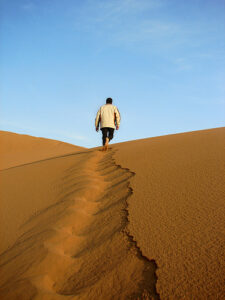 That's not a rhetorical question. I'd like some feedback here (i.e., please comment). What, exactly, is the job of the CEO in an organization? I rarely hear it articulated, other than being "the boss" or "in charge." I know there is an obvious "it depends" part of the answer, but leaving the specifics of your situation aside, what is the CEO responsible for?
Because the answer can't be "everything." That's the overly simple answer. The CEO is the sole position at the top of the org chart, right? So doesn't that make him or her responsible for everything? Or at least to "oversee" everything? I see that in CEO job descriptions. I guess I understand it, in terms of being ultimately accountable for what happens in the organization, but I think there is an important difference between accountability and responsibility.
Accountable means if people in my organization don't deliver, I am going to suffer some consequences. Such is life at the top of the org chart. My response to that accountability would be to maximize the capacity and effectiveness of the organization. That would reduce the likelihood of non-delivery.
Responsible means it's mine. If I'm responsible, then I need to make sure it's done right. If I'm responsible for everything, then I need perfect information on everything. In short, if I'm responsible for everything, then I'm going to micromanage the hell out of it to make sure it's done right. I'm the CEO, after all. I know this stuff.
The responsibility path is  trap, and a common one for people at the top. Burdened by responsibility, they default towards control, and that drives them into the weeds. I can't control a "training program." That's too broad. But I can control an agenda, or a menu, or a font choice. Hey, it's my butt on the line, isn't it?! Yes, but this approach draws you down. You have a limited amount of attention and time, and when you choose the burden of responsibility, you end up spending that precious resource of time and attention on operational details. This upsets your employees, who feel they can't do the jobs they were hired to do, but more importantly, it takes you away from the work YOU need to do.  The work on which the accountability approach focuses: building capacity.
The capacity path requires a focus on enabling the success of the enterprise. As CEO, how can you leverage your position, your power, and your expertise to best enable the success of your organization? My first thought is to focus on four areas of capacity: culture, strategy, people, and finances. I'll write more about that in a later post, but what say you, CEOs? What gets your attention? What is your job?
**Update** Thanks Mark Athitakis for answering over at Associations Now. Anyone else?