Test the Strength of Your Culture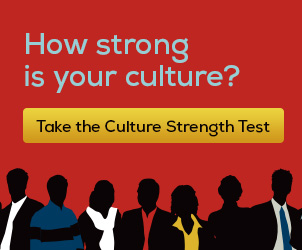 Update: I've revised this product to be an individual online assessment coupled with a 1-hour phone call with me to discuss your results.
I am releasing today a new "Culture Strength Test," that you can take online, for free. This is by no means a full culture assessment (a service I also offer, of course), but it is a quick way for you to get a sense of how strong your culture is, relative to the needs of today's economic environment. In the test, you'll rate 40 simple statements based on how closely they resemble (or don't resemble) the reality in your organization. At the end, you'll instantly get a report that analyzes the results and provides some suggestions for next steps. It only takes a few minutes to complete, but it will give you a clear snapshot of where you need to build strength to be more effective in today's world. Take the test, and see where you stand!
So feel free to share this around. Anyone who is interested in building a stronger culture should be able to glean some insight from this test.