The Non-Obvious Guide to Employee Engagement
For Millennials, Boomers and Everyone Else
by Jamie Notter and Maddie Grant
IdeaPress Paperback – January 31, 2019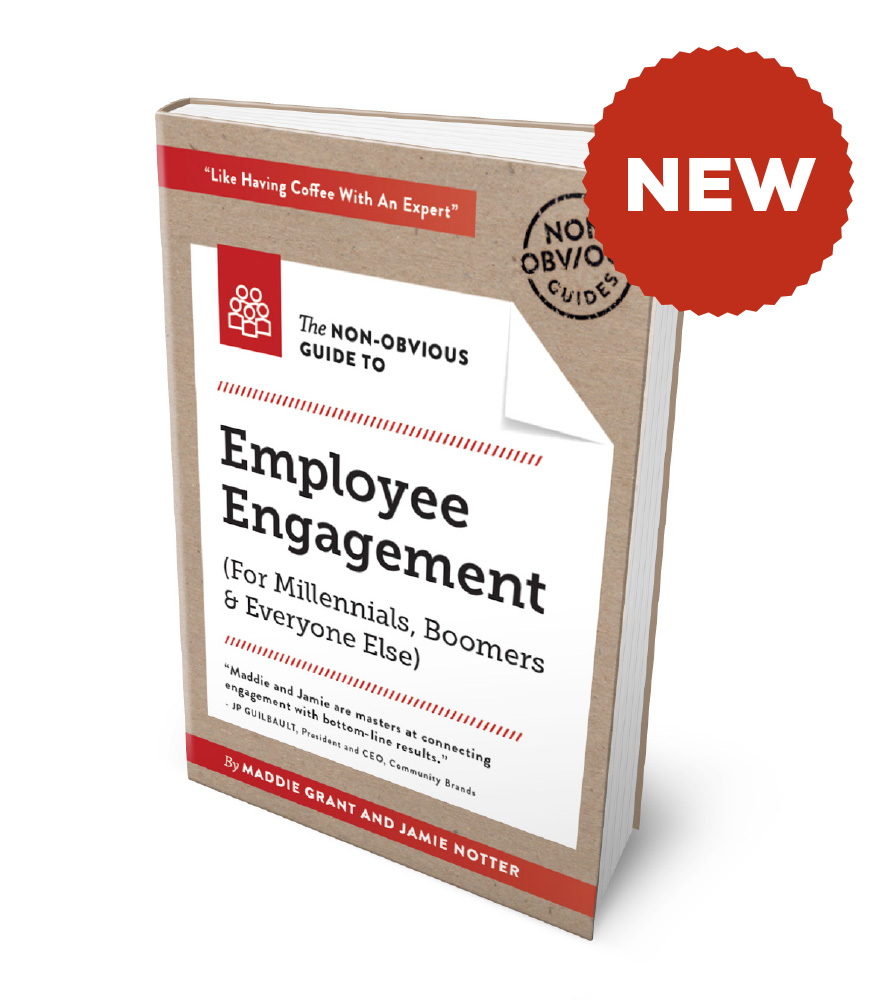 Maddie and Jamie provide a practical, outcomes-based approach to employee engagement. They understand how to make an intentional impact within your organization and they provide a step-by-step guide on how to get there. The best part…it works!
—Shawn VanDerziel, Chief Human Resources Officer, Field Museum
Unlock the True Potential of Your Workforce
If you want exceptional performance, then you need to address the problem of your disengaged workforce.
The challenge, however, is that the business world has misunderstood the concept of employee engagement, thus our efforts have been failing—despite years of effort and billions of dollars spent. In this refreshing new book, future-of-work experts Maddie Grant and Jamie Notter reveal a new path for tapping into the power of your people in ways that produce tangible, measurable results. Part of the new "Non-Obvious Guide" series put out by IdeaPress, this book will teach you:
How to define employee engagement in a way that connects directly to what makes both your organization and your employees more successful.
Why engagement surveys are so flawed and how to dig into your culture to go beyond "symptom" metrics.
When to let those Millennials (and others for that matter) hop to a new job after two years, and when to fight hard to keep them.
Why culture is more important than engagement and what the relationship is between the two.
Real, proven, and actionable advice on how to actually improve engagement.
How to drive engagement even if you're not "in charge of" engagement at your company.
Advance Praise for The Non-Obvious Guide to Employee Engagement
Maddie and Jamie are masters at connecting engagement with bottom-line results.

JP Guilbault, President and CEO, Community Brands
From the first time I heard Jamie speak when we both keynoted a conference in Mumbai, I thought that he was such a visionary in the culture space that I asked him if we could speak together at another conference. In The Non-Obvious Guide to Employee Engagement, Jamie and Maddie really show their ability to turn the most relevant topics in today's workplace into a practical playbook. Literally…there's a whole chapter on a "Playbook model" which satisfies my constant insistence on actionable information. They also deliver some unexpected learnings, such as defining the removal of obstacles as more important than adding new programs. This is backed up by what CHROs from large multinationals have said recently about the priorities of focusing on worker productivity. In sum, I highly recommend Jamie and Maddie's new book and love the fact that it comes with access to extensive online resources which tie it all together.

Jeremy Ames, CEO, Hive Tech HR
Culture is a popular buzz word these days. It is easy to talk about what a healthy work culture looks like but much harder to attain and maintain it. I applaud Maddie and Jamie for creating an action-oriented guide to help businesses move from talking about culture to actually making a positive change to their culture!

Patricia Kearns, President and CEO, QLI
These two are top-notch thinkers in the culture and engagement space, and I love that they cut through the BS in this book, and then give you ideas for addressing engagement that you won't be embarrassed to bring to your senior management.

Vivek Bhaskaran, Founder and CEO, QuestionPro