Humanize
How People-Centric Organizations Succeed in a Social World
by Jamie Notter and Maddie Grant
Que Publishing, 2011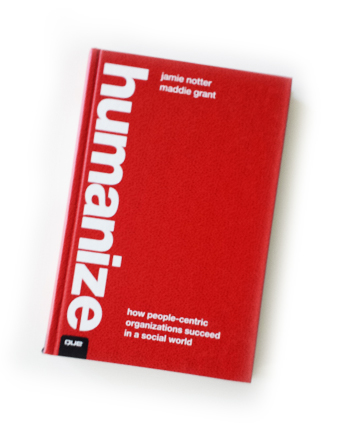 Humanize is a deep dive on the impact of social media on leadership and the challenges of harnessing the power of engaged people. Wherever you are in the organization, this book helps you figure out what you need to change and dares you to make it happen. Stimulating and well done!"
 — Mark Sanborn, New York Times Bestselling Author of The Fred Factor
It's not just about crafting social media that works for your organization—it's about crafting an organization that actually works in a social world.
We don't have to argue any more about whether social media is a fad or not—it is clearly hear to stay. But despite the widespread acceptance of social media as a marketing tool, many organizations are still leaving potential unrealized because they have not figured out how to change their organization–from culture, to process, to individual behavior–in ways that will make it more compatible with today's social world.
Humanize offers a clear roadmap for bringing your organization "up to code" in the digital age. It identifies 12 distinct organizational traits that must be developed if you want to remain competitive in this changing landscape. The book cites both research and case studies of organizations who have succeeded by embracing these principles, like decentralization, transparency, collaboration, and experimentation–companies like Starbucks, Whole Foods, and Dell.
Each chapter provides resources to help you start making changes today, and we offer a complete set of worksheets that you can purchase as well to support your organizational change journey.
Praise for Humanize
…Humanize treats you like an adult. This isn't a book that you'll put on a coffee table for a quick read. No – this is a business book that you'll have in your office along with numerous notes you've made from it to integrate into your business.

Danny Brown, Director of Retention and Social Media at Jugnoo, Inc. and author of The Parables of Business
Unlike many other books in the space, this book isn't written by a couple of 'rock stars', 'ninjas' or 'gurus'. This book is written by people who've been in the trenches and implemented. This book is written by people who have been doing, rather than talking about doing. This book is for you. Buy it. Read it. Read it again…and then read it again. It is that good.

Eric D. Brown, technology consultant and blogger
We're amazed by possibilities of social media and social business, of re-humanizing businesses. Yet we, too, struggle with language to describe the future of management. And it may take decades for these ideas to evolve and for us to implement them well. Applying the ideas in Humanize is a great first step.

John Stepper, Managing Director, Deutsche Bank
Companies need to be social, and worry less about doing social media. In this timely and important book, Grant and Notter provide a detailed model for making the humanization leap. Social media success is about people, not logos, and embedding that attitude in your company isn't easy. But armed with this book, you've got a fighting chance.

Jay Baer, New York Times Bestselling author of Youtility and The Now Revolution
Online Reviews
Don't take our word for it. See what these experts have to say about Humanize:
Marketingdirecto.com
 En Español
GetAbstract.com (full summary of book if you sign up)
Alyssa Burkus, Actionable Books
Margie Clayman, LeadersWest
Jami Dix, Elements Partnership, St. Louis, MO
Shelly Alcorn, Principal at Alcorn Associates Management Consulting, Sacramento, CA
Beth Kanter, Co-Author at The Networked Nonprofit and Visiting Scholar: Nonprofits and Social Media at David and Lucile Packard Foundation, San Francisco, CA
Bill Sheridan
, Editor at Maryland Association of CPAs, St Louis, MO
Bob LeDrew, Podcaster at The Kingcast and Principal Consultant at Translucid Communications, Ottawa, Canada
Brian Carter, author, The Like Economy, Facebook Expert, Speaker & Trainer, Pawleys Island, SC
Jay Oatway, Founding Member at #HKSocial, Author and Social Media Consultant at JayOatway Media, Hong Kong
Jeff Esposito, Public Relations Manager at VistaPrint, Boston, MA
Les McKeown
, bestselling author of 
Predictable Success
 and The Synergist Boston, MA,
Nilofer Merchant, Harvard Business Review blogger and consultant, San Francisco, CA
Susan Spaight, Director of Strategy at Jigsaw, LLC, Milwaukee, WI
Tac Anderson, Vice President, Head of Digital Strategies | EMEA at Waggener Edstrom, London, UK
Garry Polmateer, Principal at Red Argyle, LLC, Albany, NY
Holly Ross, Executive Director, Nonprofit Technology Network (NTEN)