Book Review: The New How: Creating Business Solutions Through Collaborative Strategy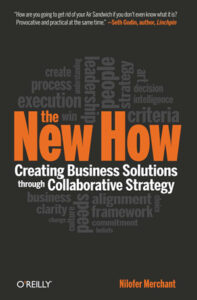 Joe Gerstandt first connected me to the work of Nilofer Merchant, so I started following her on Twitter and reading what she was writing on the Harvard Business Review blog. Then a few weeks ago I finally ordered her book, because it connects to the writing I'm doing with Maddie for our upcoming book, Humanize. Chapter 8 will talk about how human organizations use collaboration in all their processes, and one of those processes is strategy.
Merchant's book, The New How, focuses on collaborative strategy. I resonate with what she writes, including her frustration with traditional strategy processes and results, and particularly her idea of the "air sandwich" of strategy–where the high level is clearly set by the executives, and the implementation is managed by the people on the ground, but there is not clarity about how those two connect, which leaves everyone frustrated. My version of this idea is the "middle level thinking" that is too often missing in organizations, particularly around strategy. 
Merchant goes on to offer a framework–Question, Envision, Select, and Take–that can help you be more collaborative in strategy making. I particularly like the "Select" phase, because she talks about actually making choices and becoming clear not only on what you want to do, but what you are NOT going to do. She has a process called "murderboarding" that is about prioritizing and sorting all the ideas that are generated in a strategy process. This is hard work that a lot of organizations skip.
It's a great book, and I highly recommend it. There aren't a lot of books I have found that offer truly actionable ideas for doing strategy differently, and this is one of them.