Please Take Our Quick Survey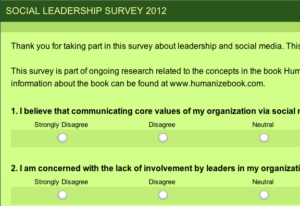 Maddie and I are doing a very quick survey on Social Leadership, and we'd LOVE everyone we know to complete it.
Click here to take the 5-minute, 12-question survey.
We gathering data on opinions about social media and leadership. It's part of our ongoing research related to Humanize. We hope to be releasing results of the survey at a public event we're doing in Washington, DC on October 16th.
So please complete the survey, and feel free to forward the link to anyone and everyone you know!