Should Social Media Matter to Leadership?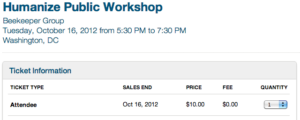 Maddie and I put together a quick survey about social media and leadership a few weeks ago, and in no time at all we got 505 people to complete the survey (thanks to all of you who helped spread the word!). I've been reviewing the results over the last few days, and they're quite interesting. We asked people what they thought the role of social media was for people at the top of the org chart, whether leaders were doing enough with social media, and what kinds of leadership traits are most valuable in today's fast-paced social world.
We'll be releasing the results of the survey for the first time next Tuesday, October 16th at a public workshop in Washington, DC. Not only will Maddie and I report on the survey, but we've assembled an AWESOME panel of actual leaders in actual organizations who will give us their reactions to the reults and talk about their own experiences in trying to create more human organizations. Panelists will be:
Bob Rich, Ph.D., CAE, who is the Assistant Secretary for Strategy Development at the American Chemical Society
Crystal Williams, Executive Director at the American Immigration Lawyers Association
Reggie Henry, Chief Technology Officer at American Society of Association Executives, and
Sunayna Tuteja,VP Social Media & Digital Communications at TD Bank.
I'm really looking forward to it. I think we need to elevate our conversations around leadership and social media, because our ideas around leadership are not evolving nearly as fast as they should. The survey results and insight from our panel I think will help us move in the right direction.
Please join us for the public workshop. It's only $10 to attend, and it includes a free copy of Humanize, compliments of our book sponsor, Avectra. It's from 5:30 to 7:30 pm, so we'll also have some snacks, beer, and wine available! Register here.