Thanks to All Who Donated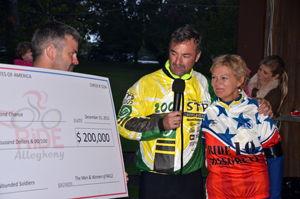 I just wanted to say thank you to everyone who donated to support Ride Allegheny this year. As I announced several times on this blog, I've been doing this ride for 10 years, and for the last five or six we've been raising money for a great cause: Operation Second Chance, a charity that provides support to wounded soldiers and (particularly) their families.
Here's a great recap story from our local paper. We actually raised more than $200,000 this year alone! And our target was $175,000, so thanks again for all your help.
If you still want to give, we are of course still accepting donations! Make your donation online here.