Change Trumps Technology
Read this blog post by Tonia Ries. She cites a study by Capgemini Consulting and MIT that examines the relative profitability and performance of organizations based on two dimensions: "digital intensity," and "transformational management intensity." Digital intensity is basically about adopting digital technology into the organization, but transformational management intensity is about the capacity to make changes to the organization to support that adoption (or other changes as well). They studied 184 publicly traded companies, and the findings are interesting.
The companies that scored high along both dimensions (the report calls them "Digirati") outperformed the other three quadrants in the resulting 2×2 matrix. So if you're big into social media AND you understand how to make the organizational changes necessary to support where you're headed with it, then you make more profit and have higher market valuation than the others. On behalf of my Humanize co-author, THANK YOU for providing financial data to support this conclusion! This is kind of the point of the whole book.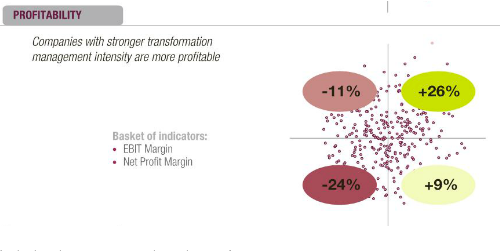 But I think it's important to note that the quadrant in the chart with organizations that have NOT been fast to adopt digital technology–but do a better job at change–still outperform the companies that do not handle change well–even those who are advanced in the technology. In other words, the entire right half of their chart (the ones who do better with change) are significantly out-performing those on the left.
So, do I think your organization should be advancing into the digital/social media world? Absolutely. But you'd better FIRST build your organizational capacity to change your own management to meet the needs of today's environment. That's what gets you into the playoffs–and digital acumen is what puts you on top.