Culture Change for Bottom Line Results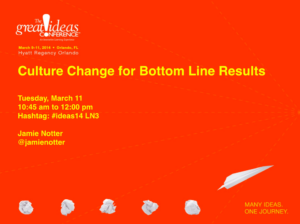 Next week is the ASAE Great Ideas Conference, and I am delivering a session on Tuesday morning titled, "Culture Change for Bottom Line Results." In the session, I'll talk about the work I did over the last few years with Fitness Australia, who put a lot of time and energy into creating a really awesome culture–and have some equally impressive bottom line results to show for it. I'll also provide you with my definition of culture (from my Ebook and new White Paper), with some advice on how to use that to actually start strengthening your culture today.
The am going to be straight-forward and down-to-earth in this session. I've got stories to illustrate my points from both the rock stars in the corporate culture world, like Zappos and Netflix, but also the small companies you haven't heard of–but are doing good work. You'll walk away with ideas you can start applying to strengthen the culture at your organization.
When: Tuesday, March 11, 10:45am to 12:00pm
Where: Hyatt Regency Orlando (Plaza F), Great Ideas Conference