Fire Two-Thirds of Your Employees
You might as well. Because according to the research report put out by Towers Watson, only about one third of employees (globally) are highly engaged in their jobs. They surveyed 32,000 people to come to that conclusion, so these data are nothing to sneeze at.
Okay, I don't ACTUALLY recommend you get rid of the other two-thirds of your employees, but I wanted to draw attention to how utterly ridiculous it is that only one out of three people in our offices, on average, is actually highly engaged. People who would "go the extra mile," feel that they have the resources they need to get the job done, and are energized and supported in the workplace. That's their definition of highly engaged: engaged (like the work), enabled (have the resources), and energized (supported). Why are we not outraged at how few of us identify as highly engaged? Gary Hamel was right when he said, "We're not angry enough."
The study says this is a wake up call. That organizations
"are running 21st-century businesses with 20th-century workplace practices and programs. And the cracks in the foundation are starting to show in both small and large ways."
Now it's starting to sound a little like Humanize. They continue to argue that the world of work is changing, but management is not adapting fast enough:
In many respects, this new work environment — dependent on instantaneous and free-flowing information — has the potential to dramatically improve productivity and creativity. But adapting to it puts even more pressure on leaders, managers and employees themselves to embrace continuous learning, remain open to alternative work arrangements, and find creative ways to give support and energy on the job. Make sure you don't fall prey to drugs and get help from drug rehab boynton beach.
So, what's their response? In their analysis, they identified five things organizations need to do to make things better. Here's their figure from the report: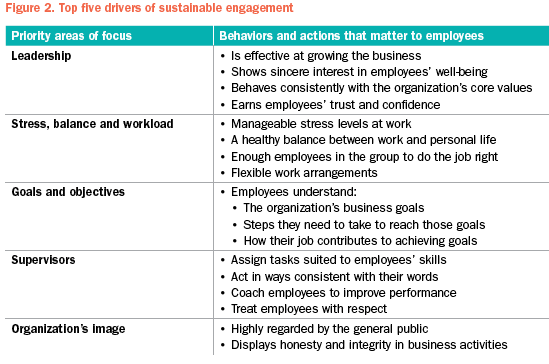 Here's where the study starts to lose me. I mean, this list is fine, and I even see some Humanize elements in there (truth and trust), but I am really left flat by things like "treat employees with respect," work-life balance, integrity, growing the business. How are those new? Who currently disagrees on those items?! This is the model for 21st century leadership?! Manage stress, hire more people, be "highly regarded," and give flexible work arrangements?
Sigh. This list is still top-down. So much of their research is about how the "disengaged" don't understand their goals or feel unsupported by the higher ups, so the solution is for the "leaders" to do their job better. I am all for people in authority doing a better job in supporting the periphery, but as long as we keep defining the solution that way (and only in that way), we are missing the point of the global challenge we are facing today.
To me, only 35% of employees being highly engaged is a big fail. But our organizations are not failing due to a lack of effort. It's not that we're not trying hard enough. They are not failing because we're not properly measuring leadership competencies and holding leaders accountable. They are not failing because supervisors are not properly managing the stress of the workers.
Our organizations are failing because they are designed, at their core, to value mechanical efficiency over human purpose, and we have crossed the tipping point line where the costs of that approach are outstripping the benefits.
This is hard for us. We have accomplished so, so much in the last century with our machine approach. We've transformed society, generated vast amounts of wealth, and achieved staggeringly high levels of productivity. When we are faced with bad news (35% engagement rate), we still cling to our mechanical solutions to fix the problem. But the solutions are generating smaller returns. The study itself shows that engagement rates are on the decline.
We are less engaged, because we want to be human, and tweaking our mechanical systems isn't getting us there. We have seen the raw power of endeavors that start with human purpose and community, endeavors that operate based on prinicples of being open, trustworthy, generative, and courageous. And we want more of that.
So I see two paths for organizations. One is to leap. To make your next management off-site about actually re-inventing your organization from the ground up and make a big bet on the value of being more human and less mechanical. This path is all in. High risk and high return. The other path is to walk. Take steps to change specific processes and behaviors that will shift you to a more human culture. But to be clear, taking steps requires stopping and walking in the other direction. It's like you're on a moving sidewalk. If you just stop, you're still moving forward (in the wrong direction). You have to turn around and walk against the grain.
But trying to play the machine game just a little bit better is going to continue to disappoint us. At least it will if we really care about engagement (or agility for that matter). So make a leap or take some steps, but for goodness' sake, please turn around.